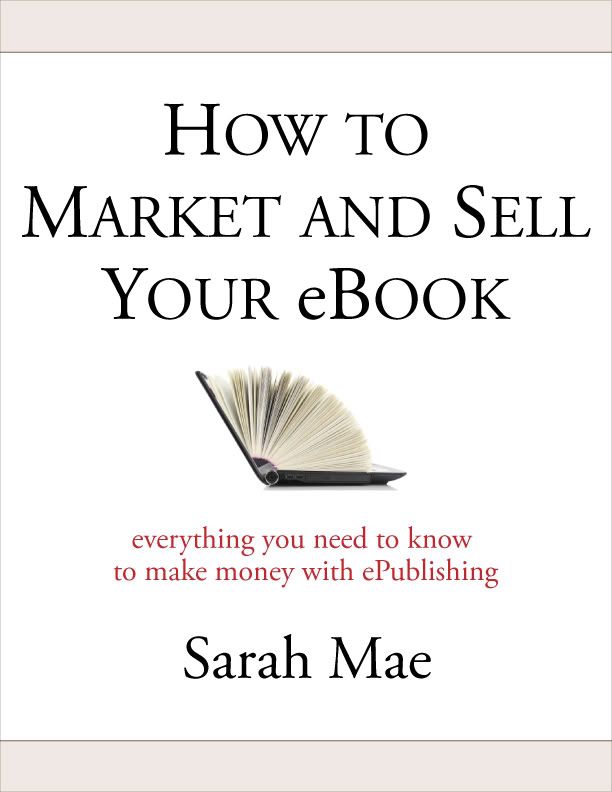 When I heard that Sarah Mae was writing an ebook about marketing and selling ebooks, I was so excited! You see, I have a few ebook projects that I had just begun working on when I heard this news. The timing could not have been better. It got even better when I was chosen to review the book. I love reading books, telling others about the books I've read, and I needed to read this book. What could be better?
My only problem with reading this ebook is that it took forever for me to get through it. I kept stopping to go do what she suggested! That was exactly what I needed from this ebook~ the knowledge and inspiration to get my ebook project off the ground. Sarah Mae's book did just that!
How to Market and Sell Your Ebook
teaches the average person how to publish his own ebook and get it out there for others to read. You don't have to be a publisher or a published author in order to share your ebook with others. It is possible. You only have to hear the story of her ebook
31 Days to Clean
(which sold over 11,000 copies in its first two months of release) to believe that, but this ebook really shows you how you can make that same story a reality for your own ebook. Sarah Mae walks you through each step in detail. Mind you, it's not a 10 Step Plan that is laid out for you to follow exactly, but she does give you very clear, simple steps to follow and the inspiration to dream up additional ways to market your own work. (Remember how I constantly had to stop reading?)Sarah Mae covers everything from content, building your platform, and creating a community to upfront costs, how to defray the cost, and where to publish your ebook. The last section of the book is where I got super excited~ "Your Step-by-Step Marketing Strategy." In this section she guides you through the maze of branding and building a buzz for your ebook. It includes a discussion about choosing titles and url's and hashtags, asking others to help you get the word out, using the power of Amazon, and how to have a spectacular launch. Did I already say that Sarah Mae has included
everything
you will need to know? The only thing she doesn't tell you is how to write!
I promise you will not be disappointed with this book! It is more than worth the $4.99 cost!
Just before the launch of the ebook, I had asked to be considered to write a review. The book launched (with a great 50% off sale) before I heard whether I had been chosen to review. I couldn't resist. I had to buy it and start reading! When I was chosen to review, Sarah Mae very generously gave me a free copy of the ebook to read for the review, plus a copy to give away. So I am giving 2 of my 3 copies away! One will be given here and one on my
other blog
.
Here are the details for this giveaway:
Leave me comment and tell me about the ebook you would love to write. If you don't have an idea for an ebook to write yourself, what ebook would you love to see written? (Or even just leave me some kind of comment. The questions are just for fun.) Make sure that your comment includes a way to contact you~ in case you win!
For additional entries:
1)
1) Leave a comment about my review or your ebook idea on my
Facebook Page
.
2)
2)
Tweet about this giveaway with a link to the post. Come back here and leave an additional comment telling me that you tweeted and your twitter handle.
3)
3) Blog about the giveaway with a link back to this post. Come back here and leave an additional comment telling me that you blogged and include a link to your blog post.
4)
4) Follow this blog (in your chosen method or reader) and leave an additional comment to let me know.
Leave a separate comment for each entry. Entries will be accepted until 11:59 p.m. on July 14. A winner will be announced on July 15.Be sure to stop by to see who wins this amazing ebook!
Disclaimer: I was given 2 copies of this ebook in order to review and give one away. However, they were not given so that I would give a positive review. The thoughts shared here are my honest opinions. (And I can be quite skeptical.)
Also, the links included to the ebook are my affiliate links. I only became an affiliate because I loved the book. It did not influence my review. The affiliate links mean that I make a small amount on each purchase made through my link. Any money earned will help to buy my children's school curriculum~ so thank you. If you prefer not to go through the affiliate link, you can click here.
Connie